Bespoke Delft Ceramics Made to Order in Britain for You
We are working with Duchess China, a tradition English pottery in Stoke on Trent, to provide a Bespoke Delft Ceramics service to our customers. Customers can cross images from our library of blue and white transfers on to a selection of "whites". (Whites are the undecorated ceramic bowls, mugs and tiles).
There are draw backs.
Products that are made to order will take a few weeks to reach you
They are not gift boxed
There has to be a minimum order value of £120 plus postage
Flexible Options for Blue and White Chinaware
This is an example of the sorts of tableware you could order by crossing one transfer (Swan No 5) with a selection of mugs and bowls.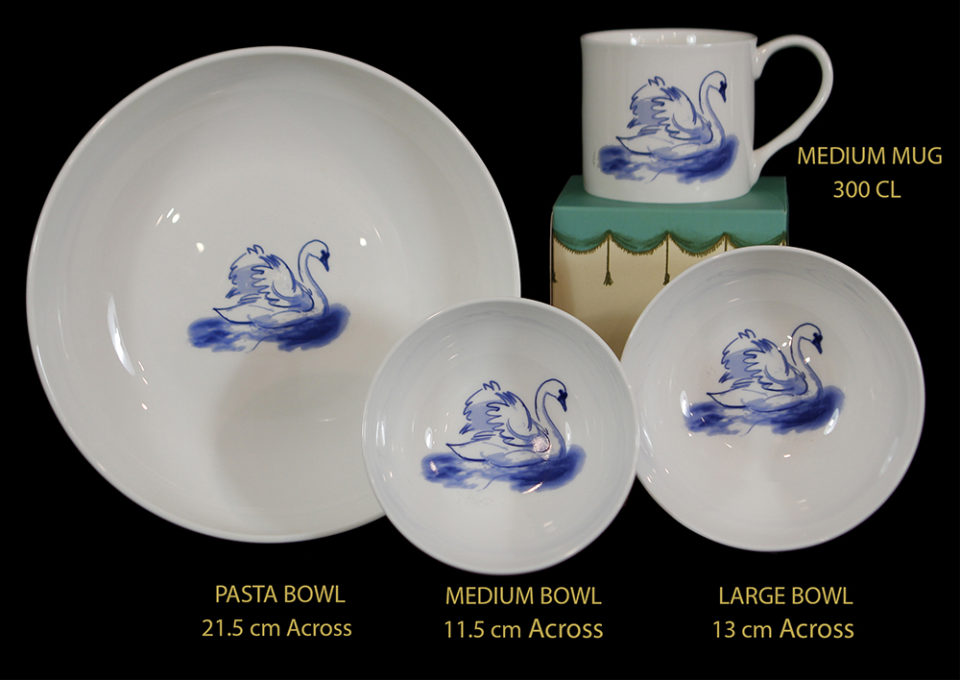 It would also be possible to tile your kitchen with the same Swan images, (see below).
A variety of shapes and sizes
We have stock of what we call "Whites". Whites are the base units to which transfers can be applied.
Our Whites come in two sorts:
Whites that we use for our present ranges of Two Bad Mice products.
Whites that are made by Duchess China.
The images below show the range of fine bone china "whites" we are using to launch the bespoke service. At present there is only one item in our range made by Duchess; The Pasta Bowl. All the other items are selected from the exclusive shapes that were developed by Two Bad Mice for our ranges of off the shelf ceramics. (Customers who have bought Two Bad Mice ceramics in shops will be familiar with these shapes).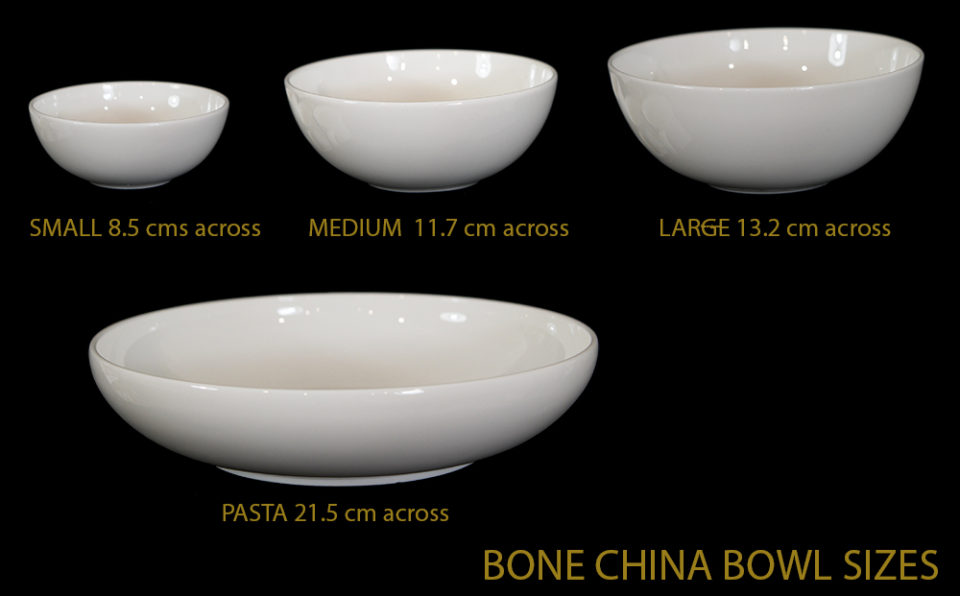 Duchess have many more shapes that are not included in our initial offerings. In special circumstances, where a customer might want a dinner service, or tea cup and saucer, we should be able to help.
The Stock of Blue and White Transfers
We have a wide range of blue and white transfers that you have never seen. You can choose any of these transfers to make your own combinations of bespoke delft ceramics. There is no reason you should not mix the between the range, but for your convenience the transfers are organised in groups
You can explore the bespoke delft ceramic options by using the links below:
Combining Transfers and Whites
You can create a big selection of options by combining a range of transfers with a stock White. For instance in the image below we have combined the Pasta Dish with the transfers from our Rustic Figures by WH Pyne. The result is stunning bespoke set of pasta dishes. The sort of unique blue and white tableware that only super rich can usually afford.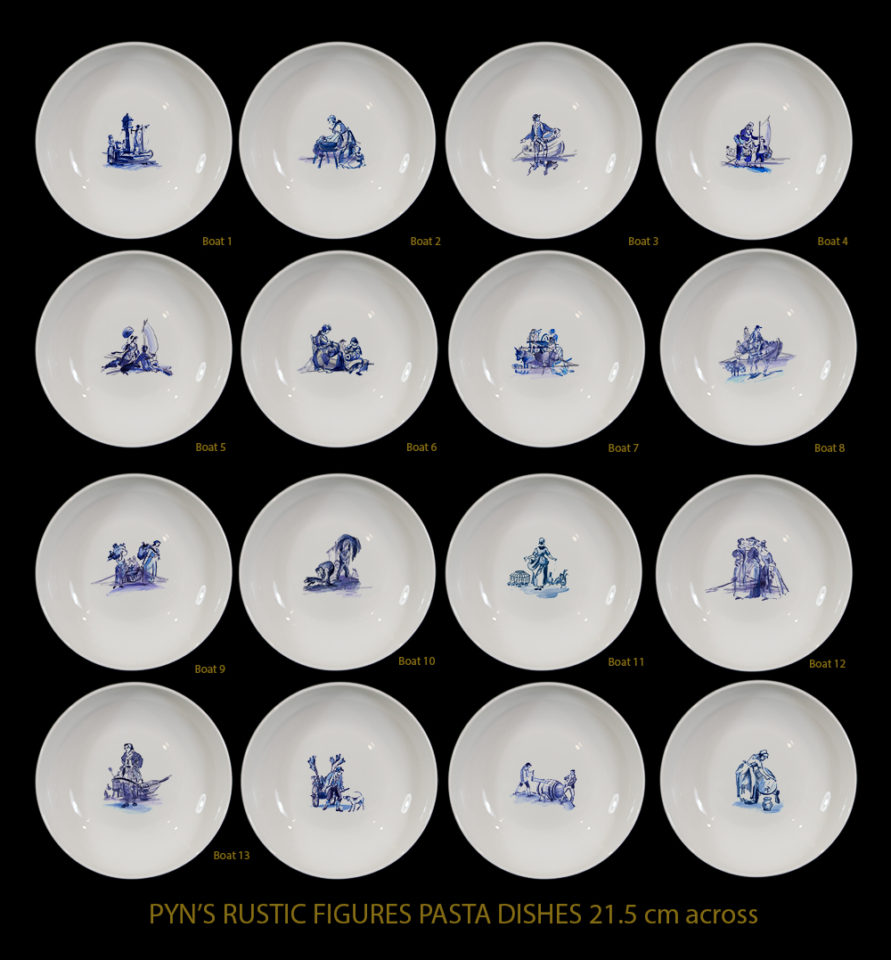 It is not just blue and white tableware!. The same ranges of transfers may be used for making delft tiles for Kitchen and bathroom splash backs. This is an example of our swan range used with corner transfers. You can make all sorts of patterns!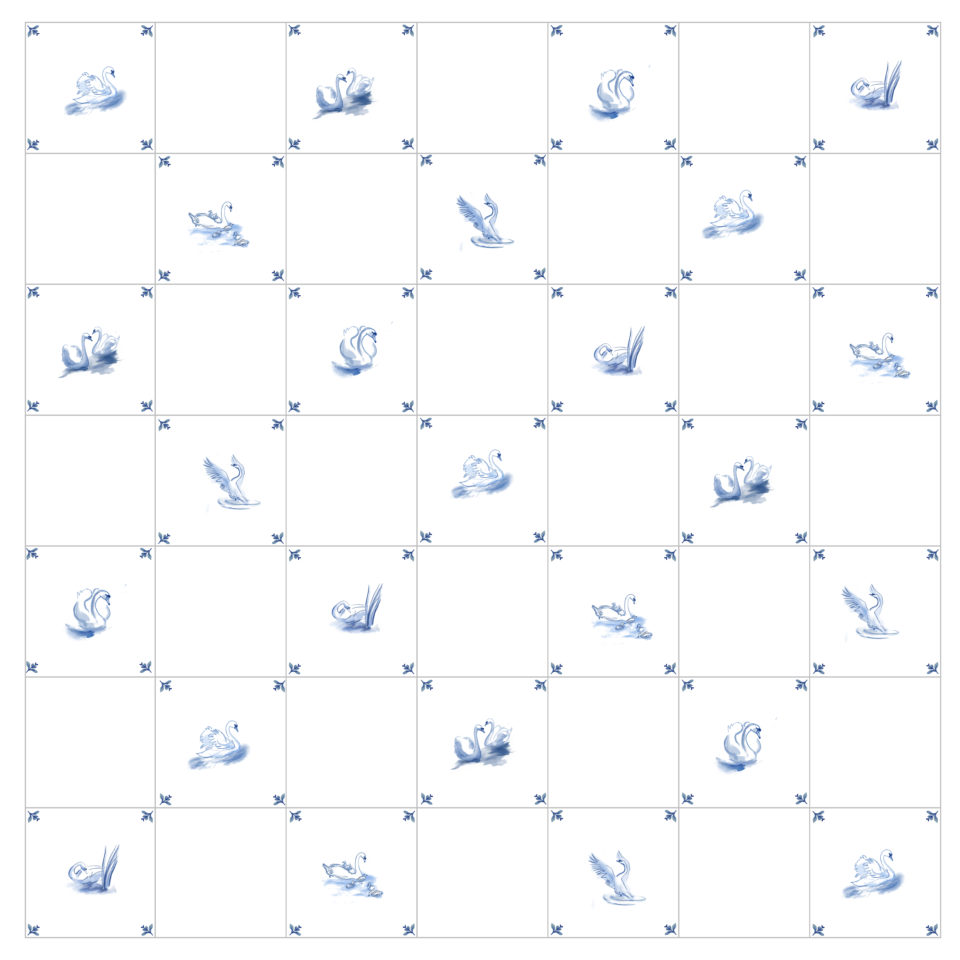 Further help for you to design your Bespoke Blue and White Tableware and Delft Splashbacks
These images can be crossed with "whites" that we have chosen for this service. (Whites are the undecorated shapes available in the range)
These links will help you discover the bespoke made to order products that are presently available
Off the Shelf Options
The use of our bespoke Delft ceramics services improves our abilities to create and gift options suited to specific niche markets. WE do however also provide an off the shelf service for a more limited range of blue and white tableware
For instance we have working on developing ranges under themes such as
Off the Shelf Blue and White Tableware for Swan lovers
Off the Shelf Blue Rabbits by Anita Jeram