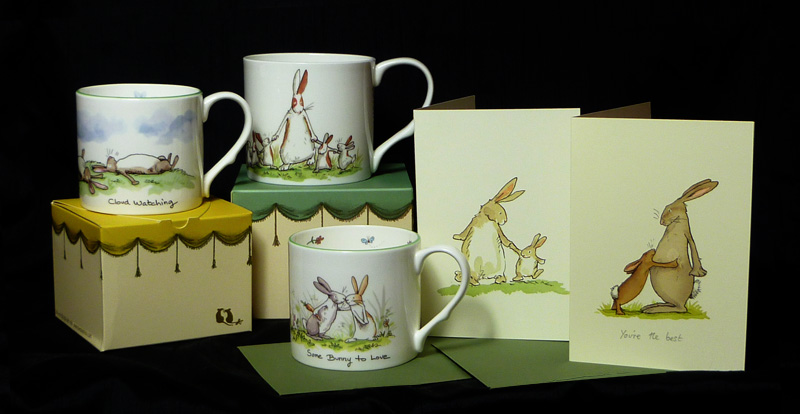 Navigating Ideas for Rabbit lovers; These links will open pages of rabbit products!
Ideas for Cards and Gifts Rabbit Lovers
Cards and Gifts featuring Hares
About "Ideas for Rabbit Lovers" (and Hares!)
Two Bad Mice have a large range of cards and gifts for rabbit and bunny lovers; of special interest are the rabbit products featuring pictures by Anita Jeram whose watercolours adorn the classic children's book "Guess How Much I Love You" which featured a "Little Nut Brown Hare". Anita seems to have a particular fondness for rabbits and hares and uses them often in her work. Many of her rabbits make particularly good Valentines and love tokens, as in "Big Love", "Some Bunny to Love" and "You're The Best". Anita wrote and illustrated another book, "Bunny My Honey", the title of which was inspired from one of our greeting cards.
Sometimes Anita's rabbits and hares have wonky personalities that appeal to adults; "Cloud Watching" has been our best selling card of all time, and now there is the mug too. You can order the two items as a gift set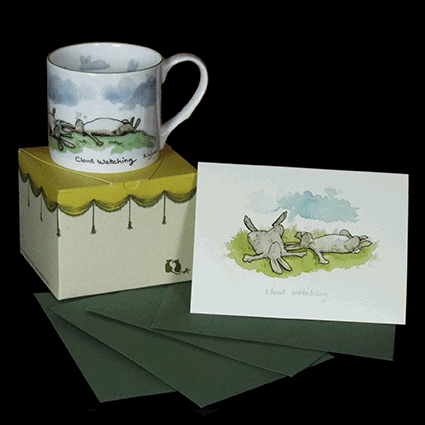 You might think fluffy bunnies as a girl thing. Strangely Anita's Hares (the famous Nut Brown Hare in her book Guess How Much I love you) come across as quite masculine. It is the same with her image "You're the Best" which has always been chosen as a card and mug suitable as Father's Day Gift.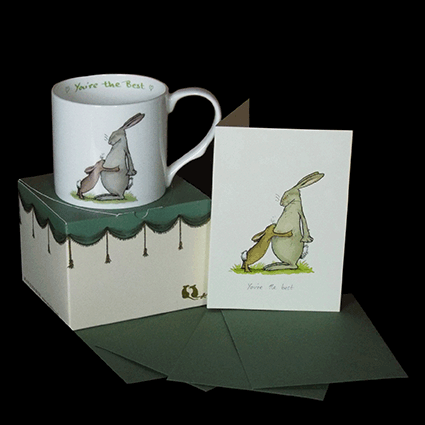 Ideas for Rabbit Lovers – Blue Rabbit Products
Off the Shelf Blue Rabbits
We have a number of off the shelf products with our Blue Rabbits by Anita Jeram. You can find these with this link Ceramics for Rabbit Lovers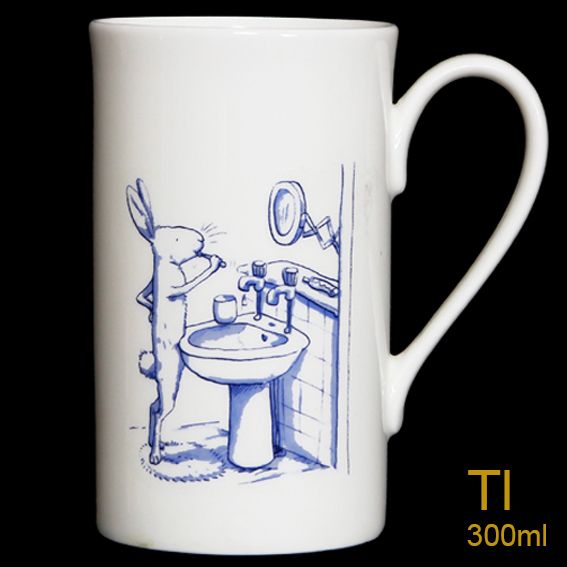 "Bespoke" is a new service we are introducing. We have a range of blue rabbit transfers which can be applied on a range of "whites" (pasta bowls, mugs and tiles). In the image above you can see how good these gifts for Rabbit Lovers can look Because these are not off the shelf items we have to make the items to order, and the orders take a few weeks to supply. Also you have to order enough items to make it worthwhile, so there is a minimum order)