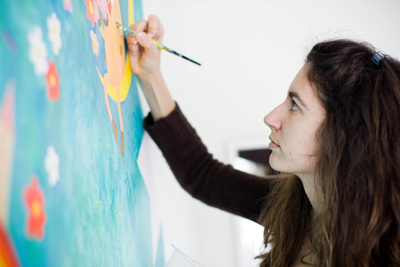 I was born in a sunny city in Eastern Europe. A lot of my childhood I spent at the backstage of the family puppet theatre where I used to grow up with the puppets and sets of each new performance. I would make stories about the characters that were different from the plot of the plays. At first I was shorter than the puppets, then finally got taller. It's probably when it started – I see a personal story in each object or creature and this I convey in my illustrations and texts.
Back home I was surrounded by my dad's paints and pictures. I used to play with sketchbooks, which I continually filled with my crayons, page after page of big smiling suns with thick hairs of colourful rays.
​
In a sense my art hasn't changed that much – the world I create is bright and happy, my characters who are often animals are friendly and naïve, they sometimes live in a human-like environment and have human-like thoughts and dreams. My pictures are detailed and have many 'mini-stories' to discover, one can look and imagine what the characters are like and what their dreams are. I also like to explore a world of animal – human relationships. I like to create pictures and stories that are ageless, that would be interesting and amusing and at the same time valid for the children and also the adults. I have an interest in using traditional painting / drawing materials such as watercolour and gouache or pen and ink but also work on Photoshop to maximize my work's finish.
I spent the summers in a remote mountainous village in Bulgaria. We didn't have a TV or internet there and I played in the mud near the river. My dad used to bring home frogs, lizards or turtles for me to play with; sometimes snakes (the snakes he put in empty glass bottles). My first ever sentence was 'My dad brought me a frog, lizard and one more frog'.
Growing up with no brothers or sisters I shared my childhood and my nursery with a cat and a dog – we were only apart when I went to school. I used to draw them all the time and study their characters and behaviour. Very young I managed to sell some of these drawings and donated all the money to a homeless animals charity. I love all animals and if I hadn't become an artist, I probably would have been a vet.
I went to school in Sofia where I studied at the National School for Fine Art where I studied for five years and was trained in classical techniques and subjects. After that I continued my art education and gained a BA in Fine & Art and Mural Painting from the National Academy of Arts in 2008. I now live in England and since moving here have been working on children's book illustrations and also on greetings cards for Two Bad Mice.
One of my most favourite things are puddles (of which you get a lot in England) – maybe this is quite understandable having in mind I spent a lot of time playing in muddy ponds. I love watching them, I love to discover the landscape in them and study the different point of view, I like to jump over them and to watch how people react when they meet them. But I'm still in love with the sun and the warm weather and weather and time permitting I try to do some gardening – being an amateur gardener though I often end up tending for a plant that is not quite the one I thought it was. I like to find seeds and plant them to see what will grow from them.
​
My working table is never big enough (even when I buy a new larger one) and is covered in sketches, paints, pencils, books, dry leaves and all sorts, but there's always room for another cup of tea – for a friend.
Two Bad Mice Pages