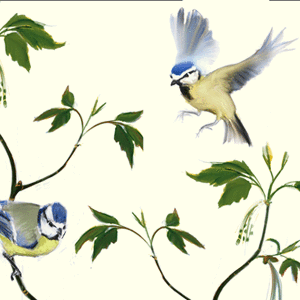 Cards and Gifts for Bird Lovers
by Julian Williams (founder director of Two Bad Mice)
I am currently working on a range of cards and gifts for bird lovers.  It is a project that will be spread across a number of years. Creating something new is always a journey along a road that is never straight. The unexpected problems become detours that take us to new destinations we never envisaged when we set out .
My range of cards and ceramics will be centred on the birds many of us are familiar with in Northern Europe. I am choosing birds we see visiting our bird tables and on our walks in the parks of our towns and cities. Amongst Britain's commonest birds is the Great Tit Parus parus. These lively nosey bossy birds have a huge range from North Africa in the South to Norway in the North, Ireland in the West to Korea and Japan in the East, and will be familiar to many of our customers.
The images start as a page of pencil drawings. I make the sketches using videos and from photographs. Once I have made a few drawings and got a feeling for the bird I can invent additional poses. I then scan the pencil drawings so that I can be amalgamated on a single sheet and worked with digitally.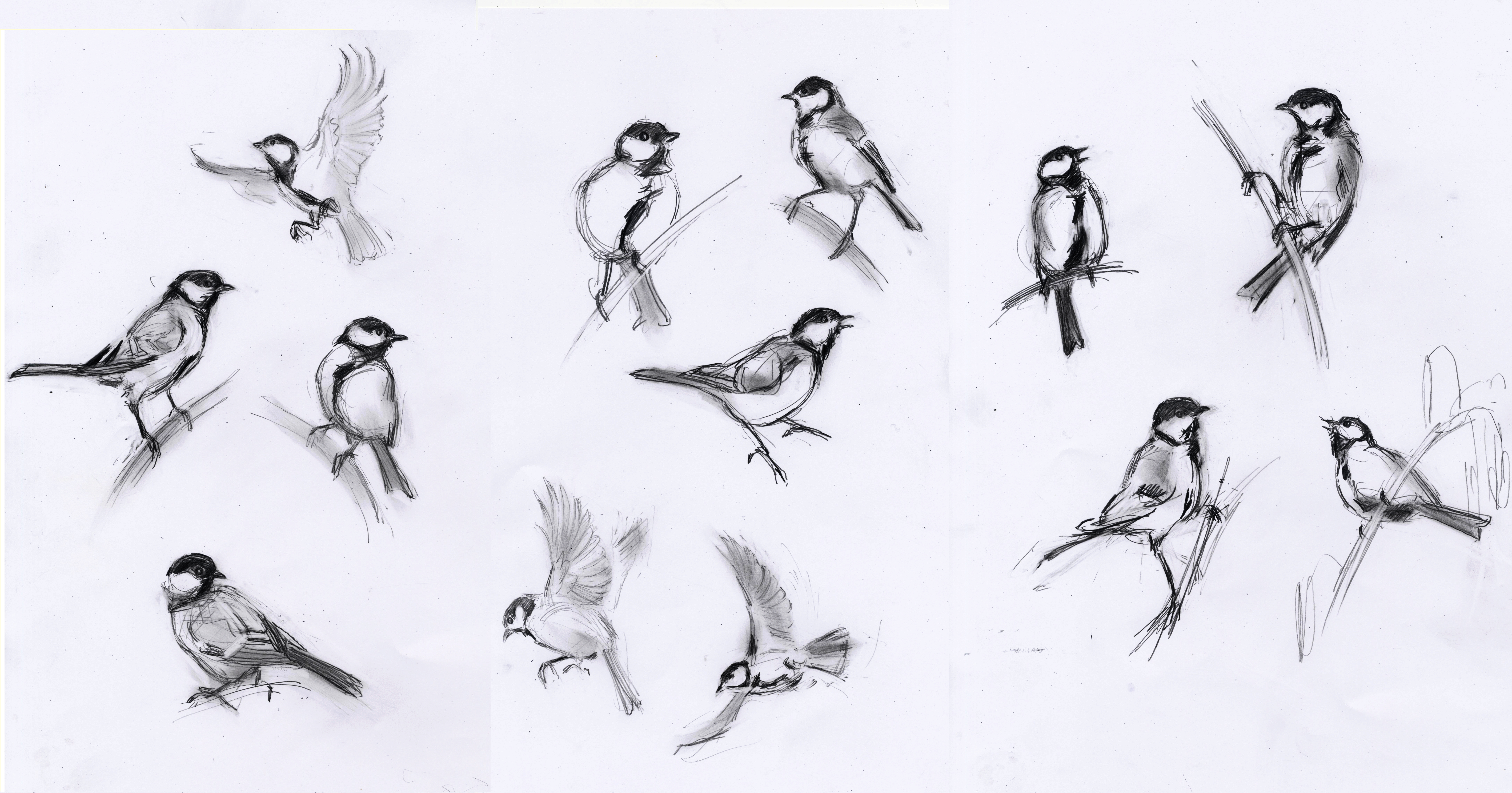 I have no confidence as a painter, but in recent years I have begun to learn how to use painting software platforms like Photoshop and Corel Painter. Instead of using paint brushes I use a digipen which is like using a pencil on a big flat screen. Digipens are programmed to mimic the behaviour and properties of real brushes in very sophisticated ways.
There are hundreds of different digital brushes to choose from. Each brush has its own characteristics which can be adjusted and changed, for instance the digital paint can be made to behave as if it is thick or watery. I can ask the brushes to react as if it is painting over wet paint that mixes and smears with new colours. Alternatively I can apply the colour with a brush that behaves with the soft and floppy properties of a fine sable watercolour brush. The watercolour brushes add translucent colours that run and dribble over the wrinkles and dips of textured papers. A big advantage of working with digital brushes is that the screen can zoom out so that the artist can apply broad strokes of colour across the whole canvas and then be asked to zoom in to blow up a small area where detailed work is required.
I use a watercolour brush carrying translucent yellows and bluey-greeny-greys on top of pencil drawing . The basic colours are applied to all the images in a matter of minutes and I now have a small library of birds in different poses to choose from.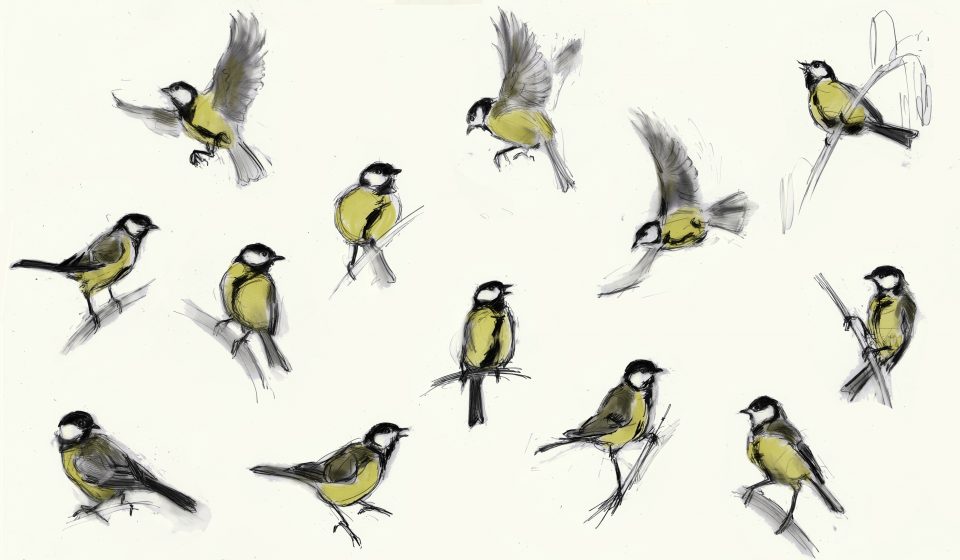 The next stage of the process is to paint some branches for the birds.
The outlines of the alder branches are painted directly on the flat screen. I am working on making an abstract pattern that distributes the vertical drops of the catkins, against the rambling branches and the birds which are dropped in front of the of the branches. In this case I have a layer for the birds, a layer for the branches The flying bird can be dragged and resized to a position where it will show on the front side of the mug, his partner will be on the back.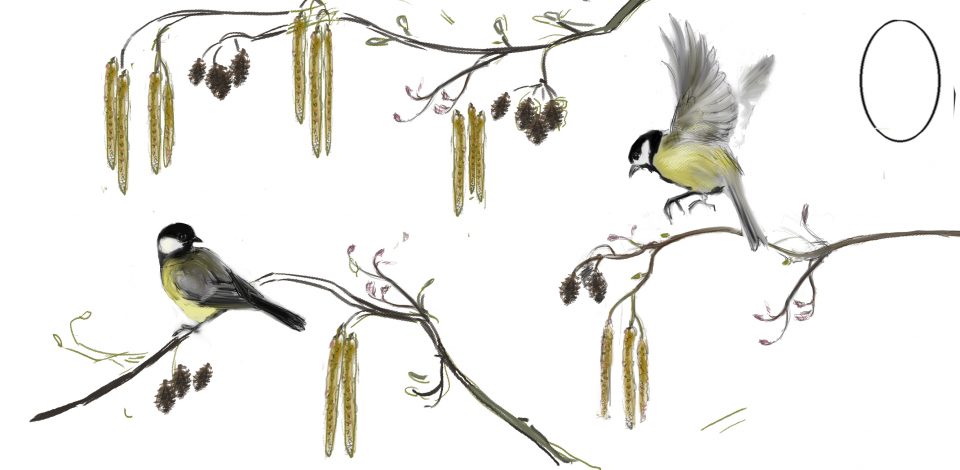 You might notice that I have added more layers of smeary paint to the birds so they no longer look like water colours. More paint is applied to add colour and fill out the branches.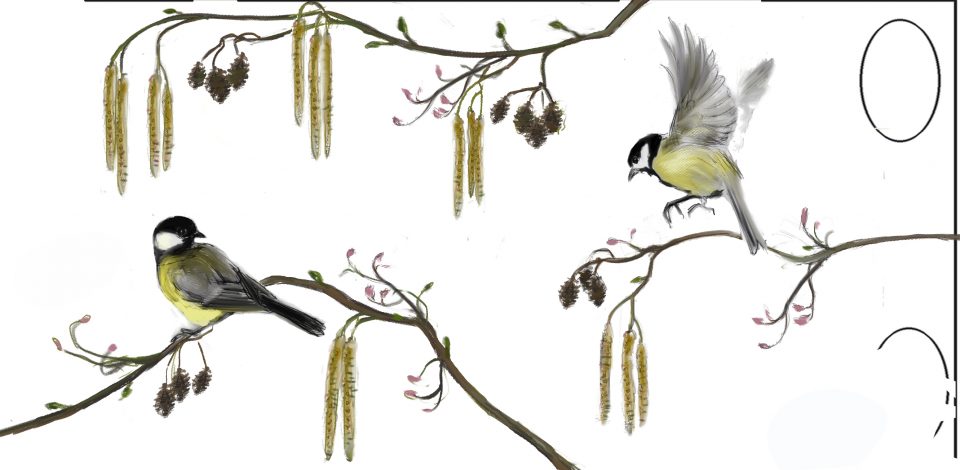 Lastly I add watery blue background which sits on a layer behind the birds and branches.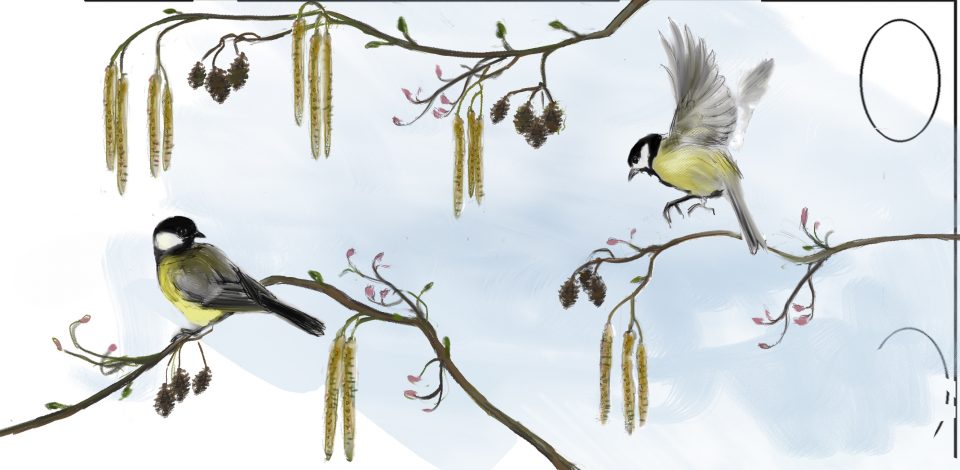 This design is now ready to be printed out on a desktop printer and wrapped around mug so that I will see how the item will look after it has been manufactured.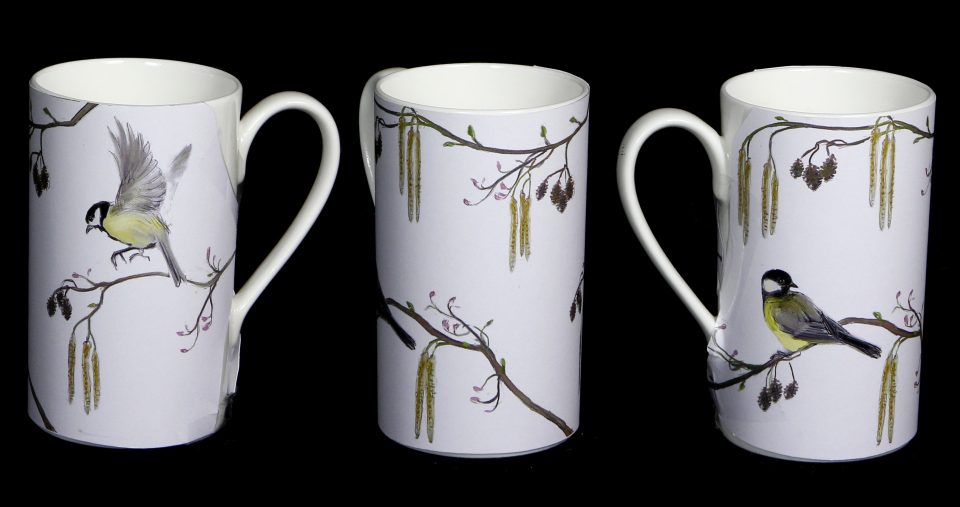 Other birds
So far I have made twelve mock ups included Chaffinches, Goldfinches, Swallows, Robins, Wrens, Mute Swans, Blue Tits, Long Tailed Tits, Coal tits, Bull Finches, Gold Crest. Here are a few samples of the designs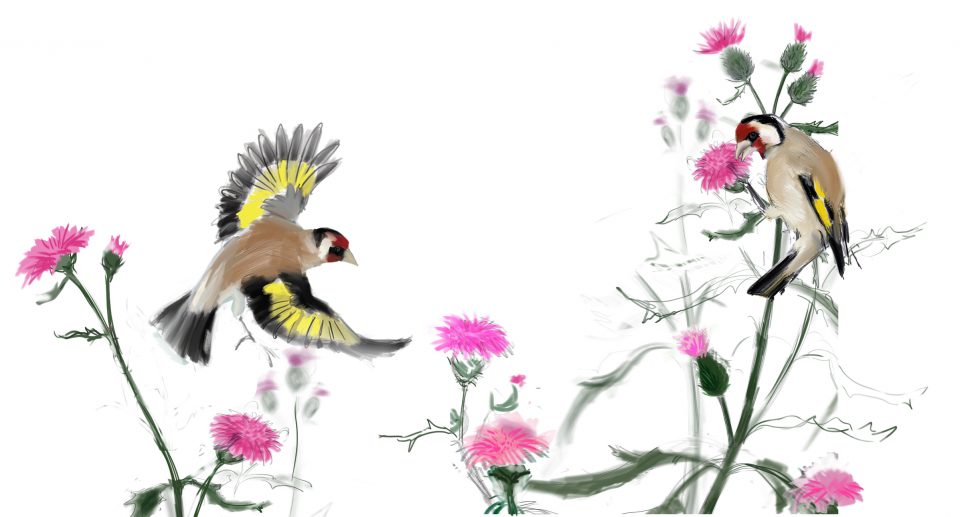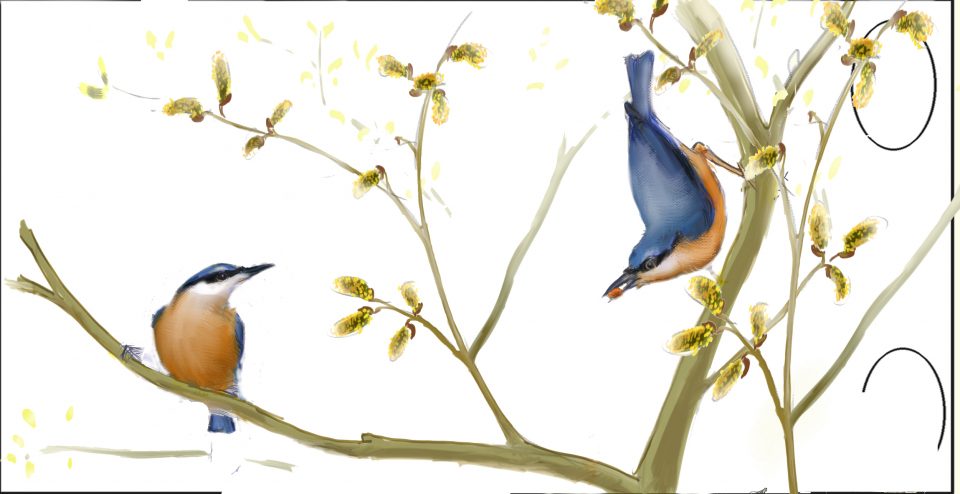 Here is a selection of how the mock ups look so far
Cards of Bird Watchers
A big advantage of digital painting is that we can re-use an image we have made for one prupose for another purpose. For instance the painting I made for a mug can be modified by changing changing the arrangements of the pieces, adding details, resizing and adding new layers. When I want to make a card I can reposition the elements image so that they work on a new portrait format. In this instance I also change the background too.
My image is finished, the last job is to research on the internet and find out interesting facts about the birds for the backs of the cards. This card was released in July 2019.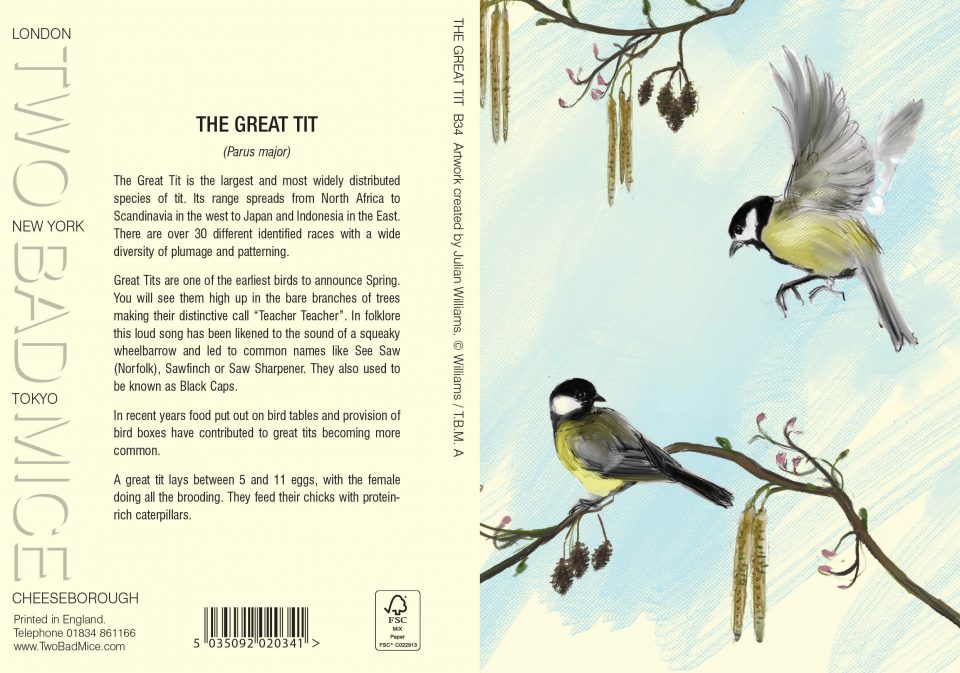 and here are some more images from the same series
Ceramics for Bird Lovers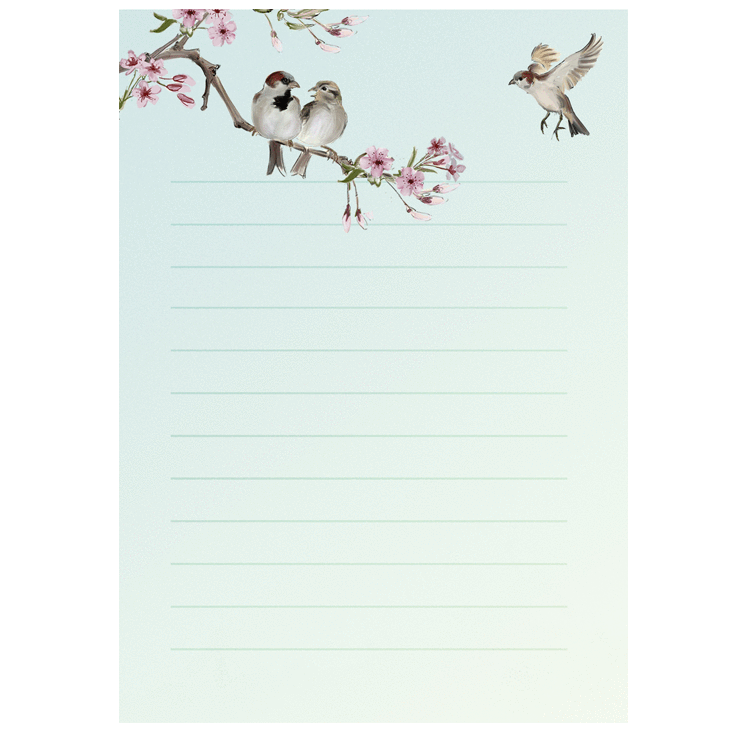 Page of Greeting Cards and Gifts for Bird Lovers https://www.pinterest.co.uk/twobadmicecards/cards-and-gifts-for-bird-lovers/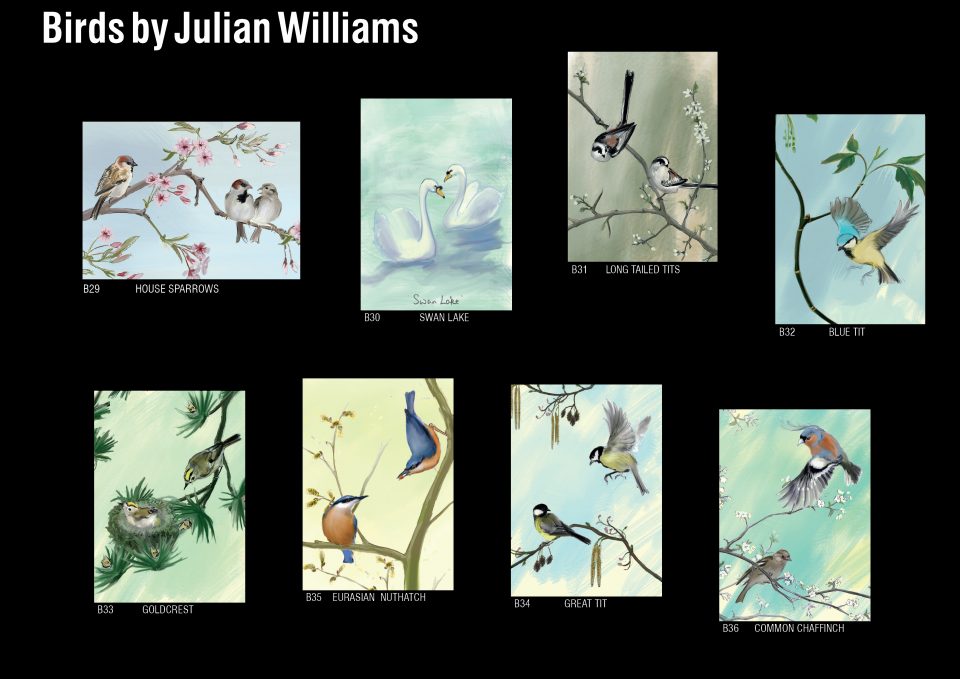 Pinterest page : Gifts for Bird lovers
Links
Jenny Wren https://drawingandillusion.blogspot.com/2017/05/jenny-wren-troglodytes-troglodytes.html
BullFinch http://drawingandillusion.blogspot.com/2017/04/the-bullfinch-pyrrhula-pyrrhula.html
Goldfinch http://drawingandillusion.blogspot.com/2017/04/the-goldfinch-carduelis-carduelis.html
Mute Swan: https://drawingandillusion.blogspot.com/2017/04/british-birds-mute-swan-cynus-olor-mute.html