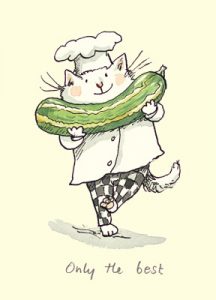 Thank you for all your ideas for titles.  We have consulted with Anita and chosen to use is "The Very Best"  because it is a great message for a card.  Sometimes others titles are wittier and tempting to use, but we have to keep in mind what message will be useful to the card sender.
Congratulations to Jo for winning £75 to spend on the website
A Dill In The Kitchen
A Happy Vegetarian!
A Light Lunch.
A Marrow Escape
A Marrow Escape
A Marrowing Tail
A Pickle Of A Time
A Present For You
A Vegetarian's Delight!
Anybody Want To Share Whatever This Is?
As Happy As A Cat With A Cucumber
Autumn Came
Autumn Harvest
Ay-Cat-Rumba!
Back Up, Please! I Need To See It Better!!
Behold Ze Chef!!
Big Expectations
C"Est Manifique
Cat Marrow Soup,Tonight
Cat That Got The Courgette
Cat V. Courgette
Chef Celeste
Come Dine With Me!
Cooking This Tommarrow
Cool Cat
Courgette Delight Tonight
Cuke Chef
Cuke Smile
Deus Ex Machina
En Gourd!!
Everything Becomes Good In Your Hands
Fancy A Marrow?
Fancy Some Lunch?
Fat Cat Gets Healthy
Feline Green Around The Gills
First In Show
From The Garden
Get Strong Soon
Getting The Balance Right
Giant Marrow Anyone
Great Expectations!
Great Rewards Come To Those Who Cook
Guess What We're Having For Dinner!
Happiness Is A Big Green Marrow
Happy Maiow-Rrow
Harvest Time
Harvest Winner!
Have A Dillicious Day
Head Chef
Hey Good Look In' What You Got Cooking?
Home Grown…
Homegrown
I Thought It Was A Courgette
'I'm The Pickle King'
In A Pickle
In A Serious Pickle
In A Serious Pickle
It's A Big One
It's A Marrow Of Taste
It's Cooking Day
It's The Cat's Whiskas
Just For You
Just You Wait!
Let´S Cook The Cuke
Let's Make Soup Together
Look What I've Got
Love Cooking
Love To Dine With You
Mambo Jumbo
Marrow Cat
Marrow Caton Bleu
Marrow Fat Cat!
Marrow Me!
Marrow Me!
Marrow Meow!
Marrowcat Cooks
Marrowly Missed By Whisker
Marrowy Bliss!
Master Chef…
Meat Is So Passé I'm Going Vegan!
Meeearrow
Meorrow In Action
Miarrow
Mind Me Marrow
Nature's Bounty
No Meat Today
Not Another Zuccuhini!
On The Straight And Marrow
Pickled Pink…
Pickled Tink!
Pretty Proud Cooking
Prize Winner
Prize Winner.
Purrfect
Purrrrrrfecttion
Ratatouille
Ready For The Weekend
Ready Steady Bake
Seasons Of Mist And Marrow Fruitfulness
See You Tomarrow
Show Stopper
Smile!
Smile!
Smiling Squash
Soup Today, Tomorrow And All Week!
Squash Step
'Sweet 'N Sour'
The Bigger The Better
The Cat That Got The Cucumber/Courgette
The Chef Is Here!
The Green Chef
The Mar-Cat
The Very Best
Time For A Career Change
T'marrow Is Another Day
Tomarrows Chef's Special
Top Cat
True Chef!
Vegetarian Cat
Veggie Surprise?
Veggie-Tarian Cuisine
Well Done Or Raw?
What A Pickle
What's For Dinner?
Whilst The Cat's Away, The Courgettes Get Out Of
Who Killed Cook's Marrow ?!
Winter's Coming – Wrap Up Your Marrows
Wow! What A Big Beak Mum Has!!
Zuccuhini This,Zuccuhini That!